Billboards – always in front of your driving audience
Over the last year, while COVID-19 has put the brakes on outings for many, people have had to turn to their screens for everything—work, shopping, social interactions and recreation—and they may be getting numb to digital ads. To minimize consumers' cognitive overload, Fryed Egg Productions has identified billboards as an additional, simple, but truly effective form of advertising in 2021.
As COVID-19 vaccinations increase, people will leave their homes more often and reawaken to their real-world surroundings, making out-of-home advertising a refreshing way to get their attention.
Which Type of Billboard Is Right for Achieving Your Goals?
Static Billboards Drive Sales and Make Impressions That Last
Traditionally, billboards had solid wooden faces that were painted with creative ad copy. Nowadays, the messages are printed on vinyl and stretched across the live area of the sign's face. These static (fixed in one place) billboards can be illuminated or not. They can be V-shaped, double- or triple-sided and may include 3D figures or elements that extend beyond the edge of the board.
The advantage of these is that every day they will reach 100 percent of the motorists (and pedestrians and cyclists) traveling past them in one direction on a road or highway. If they are illuminated, static billboards will reach every driver, every day, at any hour.
Static billboards are the main way restaurants, hotels and gas stations make their presence known to travelers on our nation's roads. Motorists depend on the signs to guide them to easily accessed food, lodging and fuel, especially in unknown locales.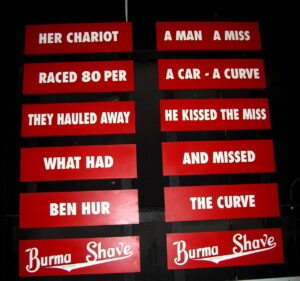 Some of the most famous roadside signs in all history, those advertising Burma Shave made such an impression between the 1920s and 1960s that they still are remembered today. Their clever and humorous rhyming signs are immortalized in a collection at the Smithsonian Institution's National Museum of American History.
Digital Billboards—Not What They Used to Be!
Digital Billboards Provide Flexibility
If you want to change your marketing message frequently or want to let folks know about a fixed-in-time event, a digital billboard allows more flexibility than a static one.
Digital billboards are like giant televisions mounted on a wall or stand-alone structure. They are electronic, programmed remotely and can be made to the same size specifications as static boards. They may be set to run ad copy at precise intervals for as long as you want each ad to appear. The intervals are standardized across the industry, resulting in ads typically appearing for 7.5 seconds, with a maximum of eight different ads per minute.
Digital boards are great for short-term contracts—an especially successful medium when you want to blast a message for folks to see in many different markets for a limited number of weeks, without the expense of buying long-term vinyl. Digital is an effective way to run alternating versions of your ad, too, taking turns showing diverse aspects of your brand.
Billboard operators program the ad from their laptops or computers anywhere, setting the date and hour for the campaign to start, the frequency with which the ad shows (once or twice per minute or less often). Copy is designed according to the predetermined content-creation specs for that particular digital advertisement, and once the ad is designed, it is uploaded to the digital billboard by the operator and starts playing immediately.
Many restaurants like digital billboard ads because they can showcase a broad range of services. They can display their breakfast options between 5 and 10 a.m., change the image for the lunch hours, show another during dinnertime and spotlight their catering overnight.
Who Advertises on Billboards? Everybody!
In addition to restaurants, many other products and services use billboards to catch the attention of motorists: auto dealerships, boat sellers, housing developments, home builders, manufacturers, transportation companies, medical facilities, IT companies, insurance agents, law firms, schools, the hospitality industry.
You can judge the medium's success for your business by including incentives such as special offers, promotions and price points exclusively on your billboard ads to encourage people to follow up and contact you.
What Products and Services Benefit Most from Billboard Marketing?
New Products
Let's say your company wants to come into the Tampa market and build brand awareness by showing people one of your existing products or a new or re-invented version of one. You can blast your ads with high frequency on a large network of digital billboards on very busy roadways for four to eight weeks. You might not want to run such an extensive campaign for an entire year, but a shorter campaign (without the expense of buying vinyl for a static board) can be cost-effective, making it a workable option not just for national brands but also for mid-size and smaller companies.
Digital and static boards run on 28-day ad cycles. If your digital ad shows once a minute, then in 28 days that is 40,320 times, or a little more than 10,000 displays per week. Multiply that by the number of drivers that see it as they pass by—it delivers an incredible number of impressions!
Events
Because of the short lifespans of most events, digital billboards are a popular option. Event planners' tight budgets may preclude them from being able to invest in vinyl production and installation. You may want an ad to run for only two weeks prior to an event to get your message across. Fryed Egg can tailor-make a program to meet your needs and prorate the cost for the shorter campaign.
Services
Billboard advertisements for services, particularly medical and seasonal, can include interactive pieces of information. For instance, a hospital might wish to inform people of Emergency Department wait times. In that case, the computer that programs the digital billboard connects to a hospital database that refreshes its Emergency Department wait times every five to 15 minutes, grabs that data and updates the text on the ad when it cycles around.
Another highly effective use of digital interactivity is including temperature displays, for instance, on summer ads for air conditioning companies. There's nothing like feeling and seeing how hot it is to make folks want to install, replace or service their air conditioners!
Hiring
A very popular trend right now is using billboards to recruit new hires in a wide range of industries, perhaps offering incentives. When you reach people on their way to or from work, they may be in the perfect mindset to consider the possibility of a new job with your brand. If the billboards are located near you, you know the recruitment pool of passersby is mobile and local, perfectly positioned for your business. Or, for instance, if you are a Florida company looking to hire folks in January, placing hiring billboards in the Midwest could be an effective way to attract people looking for a reason to leave the snow and cold.
Billboards—Always in Front of Your Driving Audience
The billboard medium can be used effectively to support different businesses in many ways. With multitudes of people on roads and highways traveling to and from work, shopping, running errands and on vacation, you're going to reach them. They don't have to be tuned into a particular television channel or radio station or subscribe to a specific newspaper to see your ad. As they go about their day, doing what they do, they will see signs for your brand, event, offers, products or services. And Fryed Egg's access to measurable data about traffic, age, income and other demographics regarding your ad on each individual billboard assures you that your message is visible to the people who are most likely to respond.
If you want your brand to make a splash in the marketplace, contact the Fryed Egg team today to see if billboard marketing may be the right choice for you.